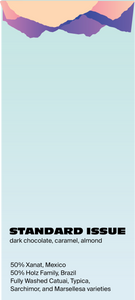 A blend that showcases different coffees throughout the year based on seasonal and market availability. We compose this blend for maximum enjoyment, and to be a solid, approachable option for any brew method. We typically use this coffee for espresso-based drinks. Currently, it is a blend of 50% Mexican and 50% Brazilian coffees, fully washed.
Tastes we find are balanced and complimentary. We find berries, chocolates, florals, and nuttiness.
Orders are roasted to order.
Orders received before Mondays 8 AM PST ship by Wednesday.