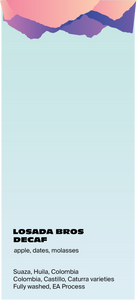 This is quite possibly the best decaf we've had yet. From Colombia comes this delicious coffee that boasts a pleasant sweetness and full mouthfeel, typically uncharacteristic of most decafs. If you've been reluctant to try decaf because it just doesn't taste quite the same, this is the decaf for you. Jaw-droppingly good, you won't want to stop sippin' on this.

/
apple, dates, molasses 
Suaza, Hula, Colombia
Colombia, Castillo, and Catarrh varieties
Fully washed, decaffeinated using EA (ethyl acetate) processing.
/
12 oz. ships out within 1-2 business days.
1 kg. and 5 lb. orders are roasted to order. Orders received before Mondays 8 AM PST ship by Wednesday.