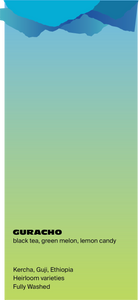 Try this outstanding coffee we just got in from the Guji region of Ethiopia. This coffee is wowing us with a clean cup packed full of complex flavor interactions. We get notes of candied lemon and melon galore, with a body that suggests black tea both in feel and flavor. It's a fun coffee across all brew methods and we definitely suggest this if you like to experiment and play with you coffee. It's very approachable and you can brew a great cup with ease.
/
black tea, green melon, candied lemon
Kercha, Guji, Ethiopia
heirloom varieties
wash processed
/ 
12 oz. ships out within 1-2 business days.
1 kg. and 5 lb. orders are roasted to order.
Orders for 1 kg./5lb. received before Mondays 8 AM PST ship by Wednesday.