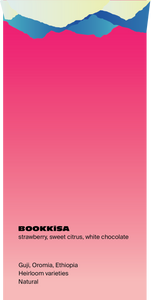 strawberry, sweet citrus, white chocolate
Suke Quto, Guji, Ethiopia
Heirloom varieties
Natural Processed
From Sookoo Coffee, owned by Ture Waji, comes this lively natural-processed heirloom blend. Grown between 2000-2150 masl in the mountains of the Oromia region of Guji, Ethiopia, this natural-processed coffee presents delicately and is packed full of complex sweetness that suggests strawberries, sweet citrus, and white chocolate. We're very excited to be able to share this with you.
Orders are roasted to order.
Orders received before Mondays 8 AM PST ship by Wednesday.