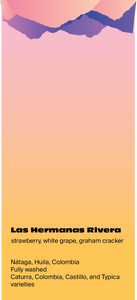 From the Rivera farm in Huila, Colombia comes another excellent offering that showcases several varietals and the work that they do at the farm to cultivate amazing green coffee. This coffee is wowing us with a clean cup packed full of complex flavor and a sweetness that leaves a smile on your face with each sip. We get notes of strawberry, white grape, and graham cracker. It kinda reminds us of candy at a certain temperature and has a delicate but substantial, pillow-y body that feels just the right balance of richness. It's a fun coffee to drink and we highly recommend it if you liked the coffee from Laura Rivera that we have had for the last several weeks. This coffee is approachable and you can brew a great cup with ease.
/
strawberry, white grape, graham cracker
Nátaga, Huila, Colombia
Caturra, Colombia, Castillo and Typica varities
wash processed
/ 

12 oz. ships out within 1-2 business days.
1 kg. and 5 lb. orders are roasted to order.
Orders for 1 kg./5lb. received before Mondays 8 AM PST ship by Wednesday.